Pricing for Fall 2022 will be updated in the second week of February.

DeVroomen Peony Tubers
Direct from the Netherlands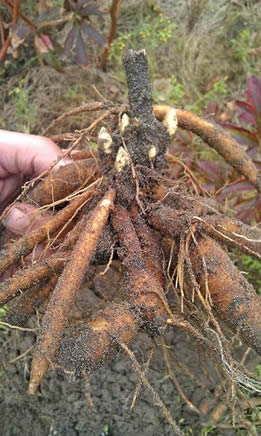 Offering probably the largest variety list in the USA, with well over 100 varieties, there is certainly something here for your specific need. Roots are grown in the sandy coastal soils of the Netherlands usually harvested in a two-year growing cycle. DeVroomen, our supplier, does not harvest flowers for shipping allowing all the energy to go into enhancing good root structure. Combine DeVroomen's 96 years experience working with peonies and our 15 years of experience, research and growing peonies in the harsh Alaska conditions, we are available to help you make the right decisions for your use and location. We have written many blogs on our web site on starting and operating a peony farm.
Unique Harvest Practice
A two year old peony plant is divided into two roots. One half is planted back into the growing on fields for two years. The other half is planted in another field and after one year is harvested as a 3/5 eye plant then exported. This practice ensures the freshly dug root will not have any excessive old roots or division damage and the young root will be full of new energy. About 80% of DeVroomen peonies are grown and offered this way.
Hot Water Treatment
DeVroomens harvest their roots as late as possible to ensure the foliage has died, putting all the energy back into the roots, and the plant is dormant. They wash the plants, give them a hot water treatment and pack them for shipping. This treatment ensures the roots will have no viruses or nematodes.
Sizes
Roots are offered in three sizes, 2/3 eye, 3/5 eye and 6/8 eye. Number of roots are offered in bags of 15, boxes of 40 and 60. We will make an effort to 'pair up' buyers to make the multiple of the 4 box minimum but no guarantees.
Ordering
Ordering is a two-step process. Scroll down to the roots below. Find the variety you are interested in, and type the number you would like in the quantity box (or use the up and down arrows to increment or decrement your quantity). This will add the roots to your cart. Once you have your roots in your cart, click checkout in the lower right of your screen, and follow the checkout process. We will call you shortly for your credit card information. You credit card will not be charged until your roots are shipped however, your order will not be accepted without a credit card.
Shipping
Fall
Deadline to order is August 1st. We recommend as soon as you know what you need, place your order. We do run out of certain varieties. You will not be charged for your order until it ships. Fall deliveries start the first week of October.
Spring
You can place your spring order before August 1st to guarantee varieties. You can place in spring also but the varieties may be limited. Spring shipping begins as soon as weather permits. Usually mid March.
Costs
Lower 48
Your roots will be shipped from the Chicago area. The roots are large and heavy. We always recommend budgeting $1.75 per root. You can make arrangements to pick up your order in Russel IL or New Jersey.
Alaska
Pricing includes shipping to Anchorage. However you are not restricted from ordering varieties only offered to lower 48. However, you will need to pay shipping. Because Alaska is so special, we will continue our personalized format for ordering rather than on line. Email us what you are interested in and we will work together to make it work best.
Blog
Go to our blogs for starting a peony farm and growing, harvesting and marketing peonies.
**Minimum 4 Boxes
When you see the asterisk, in order to ship this variety there needs to be 4 boxes ordered. That can be from several buyers. If you like this variety, ask for it, but keep in mind if we don't have buyers for 4 boxes, you may need to substitute.
Click on a photo for a larger image.