Fall Orders Due By August 1st 2021

DeVroomen Peony Tubers
Direct from the Netherlands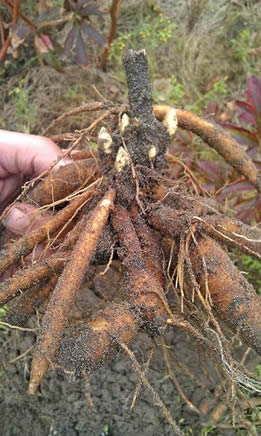 DeVroomen grows close to 400,000 plants representing more than 50 varieties at any one time. They grow the peonies in the sandy coastal soils of the Netherlands in a two year growing cycle.
Unique Harvest Practice
A two year old peony plant is divided into two roots. One half is planted back into the growing on fields for two years. The other half is planted in another field and after one year is harvested as a 3/5 eye plant then exported. This practice ensures the freshly dug root will not have any excessive old roots or division damage and the young root will be full of new energy. About 80% of DeVroomen peonies are grown and offered this way.
DeVroomen does not harvest flowers for shipping to the cut flower market. They allow flowering to determine true to variety, and once determined, the flowers are disbudded (removed). This allows all the energy to go into enhancing good root structure.

Hot Water Treatment
DeVroomens harvest their roots as late as possible to ensure the foliage has died, putting all the energy back into the roots, and the plant is dormant. They wash the plants, give them a hot water treatment and pack them for shipping. This treatment ensures the roots will have no viruses or nematodes.
Alaska Prices
All prices stated include shipping to Alaska. Two locations are used for delivery, Anchorage and Fairbanks. This system allows a root buyer to budget more accurately knowing the total costs for obtaining their roots.
**Minimum 4 Boxes
When you see the asterisk, in order to ship this variety there needs to be 4 boxes ordered. That can be from several buyers. If you like this variety, ask for it, but keep in mind if we don't have buyers for 4 boxes, you may need to substitute.
Lower 48 Prices
In case you don't know the term, Alaskans call the Continental USA the Lower 48.
The prices listed do not include shipping. The roots will be shipped from either NJ or IL and we use 12% of the total order costs as our estimate for shipping. Obviously, if you live in NJ, it might be less than if you live in CA. Lower 48 has more options than Alaskans including buying in smaller amounts of bags of 15.
Sales Representative
Rita Jo Shoultz owner of one of Alaska's oldest and largest farms represents DeVroomen for Alaska growers. Her hands-on experience, research and knowledge offer an advantage to the root buyer with advice on the best varieties for your area. Rita Jo has written several blogs about starting and managing peony farms. Rita Jo clears the peony roots through customs and oversees the distribution and inspection of roots before delivery to your farm. She is available for follow-up after you receive your roots to make sure your experiences are satisfactory.
Click on a photo for a larger image.